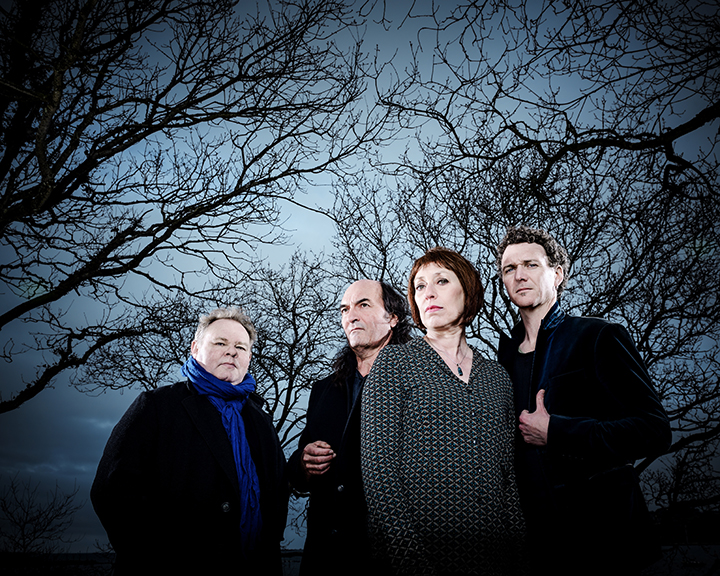 Jacky Molard, violon
Yannick Jory, saxophones
Jannick Martin, accordéon
Hélène Labarrière, contrebasse
NEW ALBUM
Jacky Molard is one of the artists who will have marked the history of Breton music over the past 30 years. Violinist, arranger, artistic producer, he participated in numerous musical adventures (Gwerz, Archetype, Pennou Skoulm, Jacques Pellen Celtic Procession, Tryptique, Bal Tribal, Erik Marchand and the Balkaniks) and lived 30 years of international tours in these di erent bands.
In 2006, Jacky Molard, with Bertrand Dupont and Erik Marchand, created the label INNACOR. In the same period, he founded his quartet.
Discography Jacky Molard Quartet
2007 > Jacky Molard Acoustic Quartet 2010 > N'Diale – Jacky Molard Quartet
feat. Foune Diarra Trio with Kassim
Sidibé et Alhassane Sissoko
2012 > Suites
2017 > Mycélium
For this new album,the quartet invite five artists to compose and to play with them :
François Corneloup, baryton
Christophe Marguet, dr
Albert Marcoeur, vocal,perc.
Serge Teyssot-Gay, e.g
Jean-Michel Veillon, flûtes
ON TOUR 2018
19/08 • JACKY MOLARD QUARTET JAZZ & BREIZH CHATEAU DE LA ROCHE JAGU (22)
17/08 • JACKY MOLARD QUARTET Malguénac Festival
07/08 • JACKY MOLARD QUARTET FESTIVAL INTERCELTIQUE LORIENT – GRAND THEATRE
11/05 • JACKY MOLARD QUARTET Langonnet – Festival Couleurs du Monde
09/05 • JACKY MOLARD QUARTET Langon sur Vilaine – Festival Bordures
20/04 • JACKY MOLARD QUARTET Poznan (Pologne) – Maison de la Bretagne
17/04 • JACKY MOLARD QUARTET Paris – Café de la danse + INVITÉS
12/04 • JACKY MOLARD QUARTET Quimper – Théâtre de Cornouaille Scène Nationale + INVITÉS
13/03 • JACKY MOLARD QUARTET Séville – CaixaForum
11/03 • JACKY MOLARD QUARTET Barcelone – CaixaForum
06/03 • JACKY MOLARD QUARTET Palma de Majorque – CaixaForum
---
contacts booking
Bertrand Dupont • bertranddupont@innacor.com + 33 6 86 71 80 43
DOSSIER DE PRESSE Mycelium > télécharger
---